EMAIL
CUSTOM TURBOS
T25 300ZX Twin BB Conversion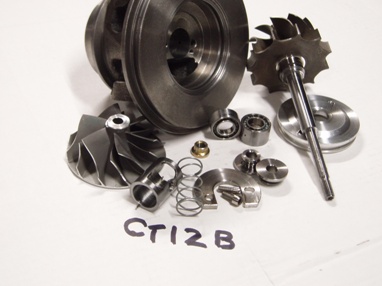 Non Water cooled Heavy Duty Ball Bearing Conversion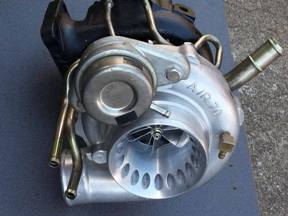 Extreme CT26 Tripple
Ball Bearing High Flow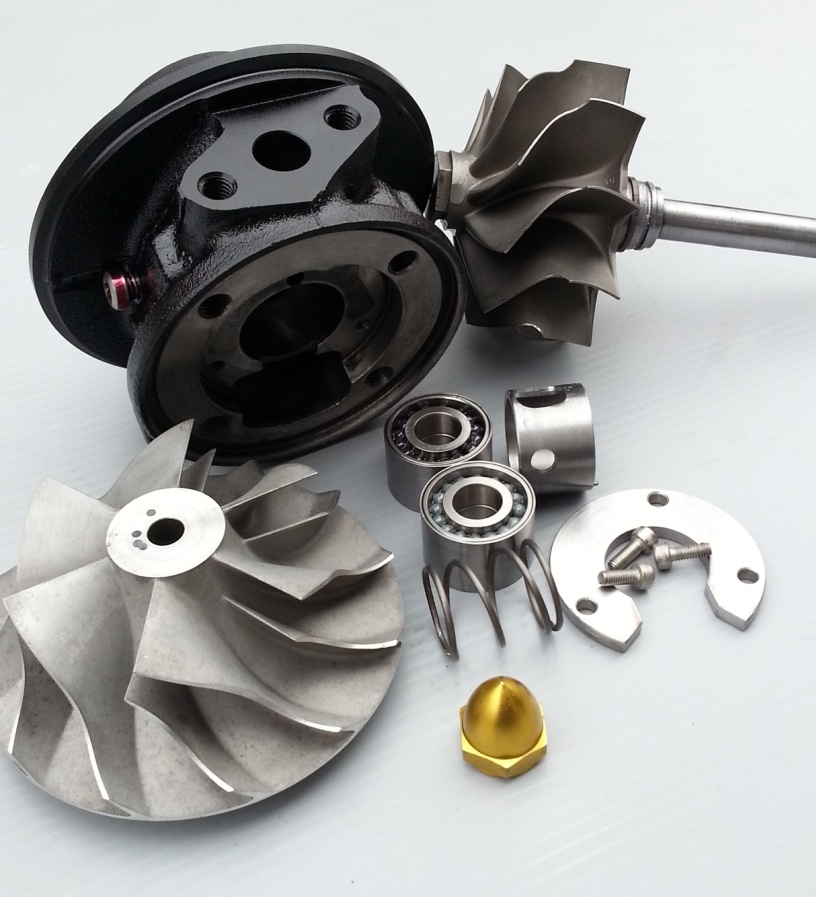 CHINESE EBAY GT42 Converted to QUAD Ball Bearing
Ball Bearing Conversions
To get the best performance from A Turbocharger, it is quite well known now that Ball Bearing systems are the more efficent way to go in the cartridge area of the turbo.There are other areas which efficency has improved, as in the turbine and compressor wheel. This is where the Garret have their GT series turbos. A conversion can be done on just about any non ball bearing turbo to convert it to single, Daul or tripple or even quad ceramic ball bearing core. Retaining the original oil and water feed lines.
Using a pair of highly efficent ceramic angular contact hybrid bearings and mounting components. This controls the oil flow and allows the free spinning of the turbo to be smooth, without any drag while under oil pressure and high thrsut loads. Journal bearing and bronze thrust systems, when under oil pressure tend to "drag" the rotation of the shaft and hold it back. Replacing with Ball Bearings this is elliminated and a nice free spinning ability is acheived and this has the potential to not only increase spool-up but also increase power by not using as much exhaust gas energy to drive the turbine.
Other major benifits are far increase thrust load reliabilty to handle huge boost and even highly restrictive intakes as in race regulation turbo entry restrictors. Also the ability to rotate reliably on restricted oil flow. Some systems have no oil supply at all.

ENQUIRE HERE or facebook
---
Dual Ball Bearing system

This is using Dual oposing Angular contact ceramic hybrid bearings
locating the shaft in place and allowing for original components
The original oil/water feed lines can still be used without modification
and no restrictors are needed.
---
Dry Ball bearing conversion

Normally not reccomended but this can be done and keeping it reliable
by using a good larger oil cooler feeding the turbo core. An engine oil cooler is not exceptable as the oil needs to be cool before getting to the bearings. Larger more robust bearings are used to increase durability. And again the original fittings can be re-used.
---
Tripple ball Bearing system

This is normally used for exteme race or boost applications and is very strong, handling extreme thrust demands. For the super extreme racers then a QUAD Ceramic Ball bearing system is available and this would be a custom fit. These may need equiring about as not all models can be converted to quad bearing.
---
Available Ball Bearing conversion brands and models

Garret TO4 Water cooled and oil cooled
TOYOTA CT20, CT26 (Tripple bb)
MITSUBISHI TDO5 TD06
GT42/45 Chinese upgrade or conversion
GT30/35 Chinese upgrade or conversion
RB20/25 upgrade
---