EMAIL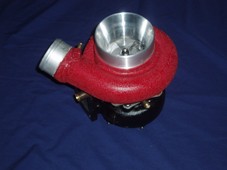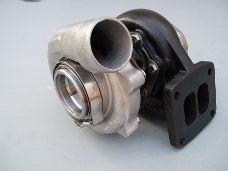 PERFORMANCE TURBOCHARGER HIGH FLOWS
AND CUSTOM REBUILDS for exchange
To increase the performance of your turbochargered
vehicle, a larger volume of air is neccessary to create
more power. High flowing the turbo on turbocharged
engines can work were it sometimes only needs a larger
compressor wheel but it can also be the design of the system
is not up to what is the flow the Engine is demanding.
Different cars haved different flaws in the design when
flow increase is demanded. A high flow job on the turbocharger alone rarely is all that is required when
doing an upgrade on a turbo engine.
An engine may need larger exhaust, bigger intercooler,
increased fuel supply (as in
larger injectors). Several high flow options here
are considered "general high flows" and yet some have
required years of development and testing to come up
with an cost effective improvement.
It can be quite
definate fix to just replace the
turbocharger with something
bigger but in a lot of cases this is
very expensive or is not legal in
their area. And may not bolt straight in requiring custom oil feed and waterlines plus all the attached pipeing.



If anymore information is needed then EMAIL


HERE ARE SEVERAL POPULAR OPTIONS FOR EXCHANGE.
CHECK THE HOME PAGE FOR STOCK LEVELS

AND
---
List of SOME of the high flow turbo options
*CT26 L/cruiser all models
*CT12 1HD-FT
*CT26 MK3 Supra
*CT26 MR2
*CT26 CELICA
And more Toyota"CT" options...

*CT20 TWIN MK4 SUPRA/ARISTO
*CT12 TWIN SOARA,

*L/Cruiser/ Hilux VNT
*WRX
*FALCON 4.0l
*PATROL TD42/ ZD30 (incl VNT)
*IMAX/ ILAOD VNT

*GARRET GT25,GT28,GT30,GT35


*Custom spec and general upgrades