Having been playing around turbo's and turbocars for 25 years I can remember the many trials and successes and failures trying to see "what happens" with anything to do a turbo set ups on an engine. I have to mention Brian munro on here because he is were it all started. His first car was a white mark 2 escort which was first fitted up with twin solex standard carby's cleverly made fron cutting two inlet manifolds andbolting both to the head "ok"but nothing compared to what was to come.
He moved straight to turbo's after meeting guys like "Bob Trigs" and "Peter Taylor" at a servo he worked at. They mentored him and inspired him to go with an escort. The first turbo set up was an old "J" pipe exhaust manifold blowing through the standard carby.Then he moved to a fabrcated manifold and blowing through a holly carby.This got him to the 12 second area at the drags. Meanwhile I was giving him help and advise thanks to a turbocharging workshop I was working at. The bug had truly hit then and he move up to better things and then bought Peter Taylors Mark 2 red escort. At the time Peter held the SSCC national drag record at 11.2 with this red escort. Then Brian fitted his his own 2lt draw through weber carby set up.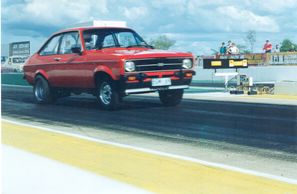 With some MSD ingnition and real boost he got the escort down to 11.04 seconds at 128mph on 25 pounds of boost. That is with a carby ,water injection MSD and a 2 valve cast iron head. What you would call a primitive setup by todays standards . But even regarded as real quick even these days.
All this isn't without dramas with demage which was part of the learning curve. He was constanly twisting 9 inch axles in his 78 series borgwarner diff so we decided to go with an Auto gear box to soften the blow to the axles. We also dicided to go for EFI which the aftermaket seen was starting to get into. Being on a budget we dicided to go for a cheap brand which did cause us dramas.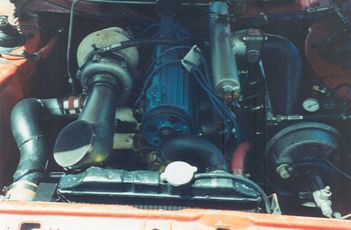 But the main hassle was trying to get the boost to come up on the transbrake , ( a race setup where first and reverse is locked together while you floor it)which is always difficult on Autos even on todays small capacity turbo engines. In the end we used a bit of nitrous oxide to help and it did by getting brian down the quarter in 9.8 seconds still with the 2 valve cast iron head, But now he had a cosworth block and of course good rods and big valves and camshaft.The turbo was a TO4B with a "H" trim compresor wheel which is considered "old school" by some today. But this "old school" car was the quickest in the country for a street car buy a full second.
So much for the "old school" thing.
Upgrades didn't get much improvement, so his next big step was to go all out and he bought Tony Longhursts Siera Cosworth touring car engine(when they were pulled from racing in Australia at the time). This went in and I fitted a MOTEC ecu to it and a cosworth turbo with bigger exhaust housing. It was run on methonol and the result was a 9.7 second at 138 MPH. This was a time done many times and also ran in Supergas class at willowbank drag strip which proved consistant and reliable.The turbo was not anything special at all by todays standards. It was a TO4E or also known as a TB03 which is a bathurst racing spec turbo. It's specs were a large TO3 turbine wheel and a 60mm compressor wheel with a T04E compressor cover and an internal wastegated .82A/R turbine housing.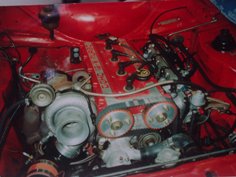 Some would freak over the size of this being too small but this is what we found worked best with the transbrake and spool up and still make power.
After several years and many successes the costs were getting hard to justify and motivation took its toll and the red escort was eventually sold and all the race items with it.
I carried on with turbocharger work and experiments out of interest and finally started this business. Working on many other race cars and tough street cars kept the experience coming. Now the business is 12 years old and much more adva and staying ahead of the turbo technoligy.

In the future there are several revolutionary turbo inventions an race car inovations along with hot rod turbo designs which I hope to bring to reality when time and money permit.